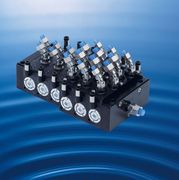 Following automotive industry requests for an ATEX approved, air operated valve for use with either water or chemical based products, SMC - the world leaders in pneumatic technology - are pleased to launch their new Series VCC valve range.
With their lightweight resin body manifold construction this new valve range has been designed for both ease of maintenance and cleaning. Using a simple one- touch fittings and a clip system it is possible to add or remove a valve without the need to replace the piping and thanks to its improved sealing, residual liquid inside the valve is reduced accordingly.
Additional benefits of this improved sealing have also shown in impressive valve performance of up to 5 million cycles when used with paint and 10 million cycles for air.
Fully ATEX compliant, Series VCC valves are ideal for applications that require the separation of fluids such as paint and cleaner or pilot air and main fluid. Designed for use with SMC´s stainless steel fittings range Series VCK, which includes straight, 40º swivel elbow and 90º swivel elbow type fitting options, this valve and fitting combination ensures that excellent space saving can be achieved.
If you got any questions please do not hesitate to contact us.
Your Team IBH
SMC offers solutions from air preparation, instrumentation, through to valves, and actuators covering practically every single step in the automation process.