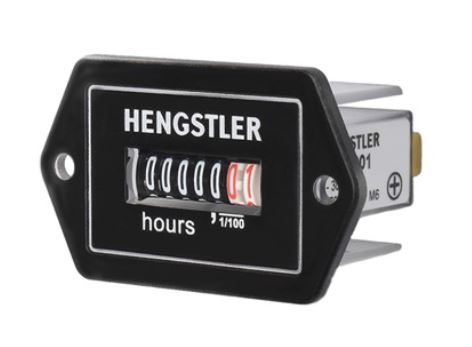 Honeywell and Hobbs electromechanical counters can be replaced by the DC 636
The new Hengstler DC 636 hour meter enables the predictive maintenance of machines and vehicles even under harsh conditions. It is characterised by a high level of robustness and requires extremely little installation space. Therefore, the DC 636 is an ideal replacement for the Honeywell and Hobbs electromechanical hour meters which are no longer available.
The low installation depth of 44mm makes the DC 636 hour meter the most compact of its kind. Due to its sealing concept (IP67) and its high vibration and shock resistance, the meter can even withstand adverse weather conditions without problems. It is therefore ideal for use in tractors, boats as well as construction and forestry machinery.
The DC 636 hour meter is designed for 5 to 30 VDC, is energy efficient and can be used in a wide temperature range (–40°C to +85°C). The meter was developed for target groups such as machine leasing providers, product designers and maintenance engineers who want to enable their customers to establish predictive maintenance. The DC 636 is the best choice for applications in which a high-end electronic solution would not be profitable.
As a manufacturer of counters, printers, cutters, relays and encoders, HENGSTLER offers many years of experience in electromechanics, mechanics, pneumatics and electronics.