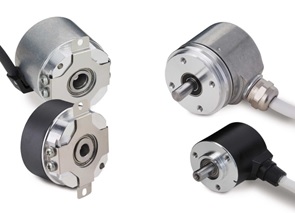 Encoders for sophisticated applications in medical technology
Around the world, Hengstler encoders ensure that medical diagnosis and therapy devices function precisely and reliably. The encoders are ideal for use in operation robots, computer tomographs or exoskeletons. If desired, they can even be adapted exactly to the application.
In addition to the high resolution, medical technology manufacturers particularly appreciate the robustness and the compact design of the encoders. Furthermore, some of the encoders have unique properties: For example, the multiturn absolute encoder ACURO AD36 is the only one in its class with a continuous 8 mm hollow shaft. The AD36 provides digital position data with a resolution of up to 22 Bit (singleturn) and 12 Bit (multiturn) via a bidirectional synchronous interface with a variable clock rate up to 10 MHz.
The ACURO AD35 also enables the transmission of digital position data (resolution up to 22 Bit). Like the ACURO AD36, it is ideal for the precise positioning of the surgical instruments in operation robots and even makes the most complicated brain surgeries possible. Both encoders also ensure the exact alignment of the imaging units in mammography systems and CTs as well as the exact alignment of MRI patient beds or PET scanners/gamma cameras in nuclear medicine.
Both the AD36 and the AD35 have a high electromagnetic tolerance. Therefore, the encoders neither impair the function of diagnostic imaging systems nor are they damaged by the radiation. The AD36 is also used in exoskeletons, just like the ACURO AD35. The encoders are ideal for this with their low weight and compactness: With an installation depth of just 23.65mm, the AD35 is the shortest hollow shaft encoder worldwide.
High precision is also required in grinding machines for the production of spectacle lenses. Manufacturers of these devices therefore rely on the Hengstler incremental encoders ICURO RI32 and ICURO RI36. They are not only insensitive to the electromagnetic fields occurring during the manufacturing process, but also offer high resolution (up to 1,500 or 3,600 strokes). Another advantage is the small size because there is very little installation space available in the production machines.
As a manufacturer of counters, printers, cutters, relays and encoders, HENGSTLER offers many years of experience in electromechanics, mechanics, pneumatics and electronics.