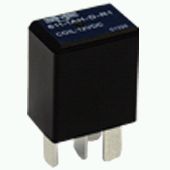 High current micro ISO automotive relay.
SPNO contact configuration.
Switches up to 35A resistive load, 100,000 ops.
Dust cover, flux-free type and sealed type are available.
Optional resistor or diode for coil transient suppression.
Complies with RoHS-Directive 2011/65/EU and ELV-Directive 2000/53/EC.
Song Chuan was founded in 1974 and began producing specialized electromechanical power relays.