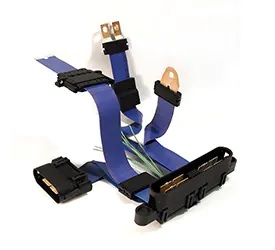 The AMPOWER Wave Crimp System is a family of interconnections featuring a unique flat copper cable termination which makes it suitable for power distribution. The wide variety of AMPOWER interfaces available from TE for flat cable make it a versatile, innovative, and cost effective solution for power distribution. AMPOWER flat cable assemblies provide a unique and effective means of distributing power from source to load in today's high speed, high density systems.
Product Features:
- Separable interfaces have positive locking, polarization, and contact shrouding
- Right-angle and vertical headers on 2.54 [.100] centers accommodate standard 1.02 [.040] PCB hole diameter
- Four-cable, self-aligning connector can pick up 2.03 [.080] misalignment off a common axis and measures 80 amps per cable (at 30ºC temperature rise) depending upon the application
- Unique tap permits branching of trunk lines to serve multiple distribution points
- Assemblies are measured at 70-110 amps (with 30ºC temperature rise) depending upon mounting interface
- Recognized under the Component Program of Underwriters Laboratories, Inc., File No. E28476, No. E13288, and No. E53799
- Certified by Canadian Standards Association, File No. LR7189A-149
- First flat cable tap that allows branching from primary trunk lines, side tapping, and discrete wire tapping
- Blind mate drawer connectors feature sequential mating and signal contacts
To branches, such as the automotive industry, aerospace, but also in defense systems as well as the whole new energy sector, TE Connectivity offers high-quality and innovative products.