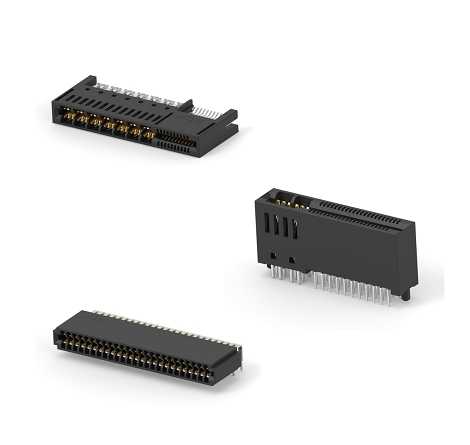 TE is shaping the card edge power connector portfolio into a comprehensive one with the introduction of single-beam, high-density (HD) heightened, HD plus (HD+) 5- and 8- beam card edge power connectors, supporting current ranging from 5.2A/pitch (5.2A/2.54mm pitch) to 46A/pitch (~15A/2.54mm).
Key Features & Benefits
Comprehensive product portfolio
Abundant product options with standard, medium, high and premium current rating, ranging from 5.2A/pitch (5.2A/2.54mm) to 46A/pitch (~15A/2.54mm), supporting up to 3400W
Addressing general and high-end markets demands
Offer system design flexibility
CRPS interface compatible products: single-beam and HD+ 8-beam card edge power connectors
Expansive PCB orientation configurations: right angle, vertical, straddle and heightened
Custom solutions available to address customer needs
Enable optimized performance
Enhanced safety: UL and TUV certified
Higher current, higher density and better heat performance through TE's innovative contact design -- pass-through dual-layer contact design can allow thicker material
Applications
Power supply units and power transmission between boards, e.g. raiser cards for:
Data center (switches, servers, storage, routers)
Remote radio units
Base stations
To branches, such as the automotive industry, aerospace, but also in defense systems as well as the whole new energy sector, TE Connectivity offers high-quality and innovative products.