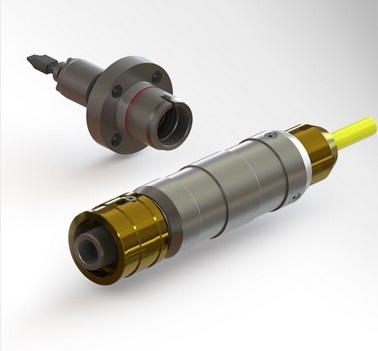 HIGH PERFORMANCE MULTICHANNEL FIBER OPTIC CONNECTORS
New in-line dry-mate connector offers increased environmental protection for marine fiber optics.
TE Connectivity (TE), a world leader in connectivity and sensors, revealed today its new DEUTSCH high density optical in-line dry-mate connector. TE developed this multichannel fiber optic connector from reliable high pressure/high temperature (HP/HT) fiber optic technology that is backed by more than 30 years of performance in the field. It was designed to withstand harsh offshore environments and is ideal for applications that need maximum space and weight savings.
TE's DEUTSCH high density in-line connectors offer a cost-effective solution for multichannel fiber optic management, packing 12 to 24 fiber optic channels (FO) in standard versions and up to 48 FO upon request. With operating temperatures between minus 30 and 121 degrees Celsius using the HT fiber, and bulkhead receptacles that are rated to withstand 450 bar (6,536 psi) of differential pressure, this multichannel fiber optic connector maintains stable performance during strain and temperature monitoring. Low insertion loss and back reflection (≤ negative 45dB) are achieved using angled physical contacts. In addition, the system maintains integrity in the face of flooding due to a dual sealing bulkhead receptacle.
"The new high density optical in-line dry-mate connectors are built from the same reliable technology used in multi-fiber optic HP/HT feedthrough systems, so engineers can expect a familiar interface that's compatible with TE's established DEUTSCH dry-mate connector," said Jérémy Calac, product manager for marine oil & gas. "They are also optimized for offshore renewables systems, subsea flexibles and umbilical terminations."
To branches, such as the automotive industry, aerospace, but also in defense systems as well as the whole new energy sector, TE Connectivity offers high-quality and innovative products.