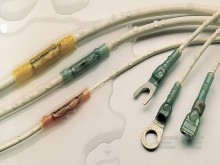 Crimp connector from the TE Connectivity DuraSeal series as an absolutely safe one-piece solution for cable connections.
The DuraSeal solutions from TE Connectivity include crimp connectors which, thanks to the intelligent one-piece solution, enable an isolated and safe cable connection.
In addition to the line connection using the D-406, the B-106 DuraSeal connectors also offer a secure line / terminal connection. These are also insulated, strain-relieved and, with their simple processing, form a perfect solution in a wide variety of demanding work environments.
What distinguishes the connector?
One-piece connector (combination of crimp connector and pre-coated shrink tubing)
The adhesive coating provides perfect insulation from water, salts, etc. (corrosion prevention)
An additional strain relief ensures that the crimp connection is resistant to vibration and movement
Where are DuraSeal crimp connectors used?
Motor vehicle and automotive cabling
Line connections in the maritime sector
Line connections in the industrial area (pumps, etc.)
Do you have any questions about the procurement or processing of DuraSeal connectors using the AD-1544 crimping tool and a heat processing device?
Then contact us directly:
To branches, such as the automotive industry, aerospace, but also in defense systems as well as the whole new energy sector, TE Connectivity offers high-quality and innovative products.