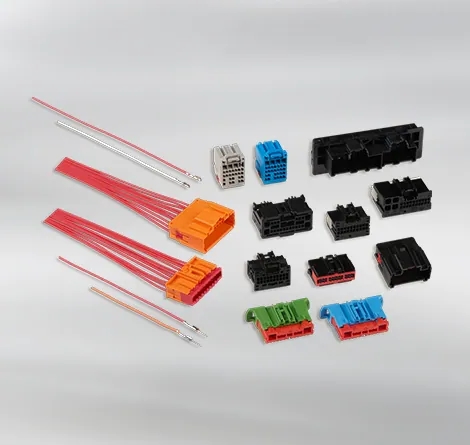 0.64mm Automotive Terminals & Connectors
TE Connectivity's (TE) Generation Y portfolio of 0.64mm terminals, connectors, and headers, offers proven compact, low mating force connectivity solutions for a large range of signal applications. These connectors are available in various positions as well as hybrid connector designs.
Features and Benefits
Sealed and unsealed connectors for use in cabin or engine applications
Low engagement force contact allows for higher pin count with hand mate while meeting requirements of USCAR-25
2.2mm centerline pitch capable to allow greater density to reduce PCB costs2.2 mm centerline pitch capable to allow greater density to reduce PCB costs
0.64 mm/2.8mm hybride connectors provide power and signal in one package to reduce complexity and cost
Off-the-shelf or application specific design available.
Header materials available for IR resistance and lead-free solder processing
One piece hinge-lock plug housing provides independent secondar locking of female terminal
Header designs available with thru-hole solder tails, surface mount tabs or press-fit compliant pin terminals
Header designs available in vertical or right-angle; with or without boardlocks
Sealed and unsealed connectors exceed performance requirements of USCAR-2, -20, -21and -25 connector design and ergonomic standards
To branches, such as the automotive industry, aerospace, but also in defense systems as well as the whole new energy sector, TE Connectivity offers high-quality and innovative products.