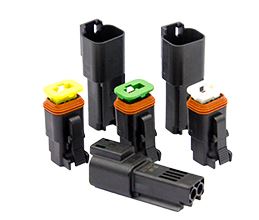 Good connector design is the key component for power or signal transfer applications that operate in harsh environmental conditions. Using the right connectors with better reliability and higher waterproof resistance increases the performance of applications. TE Connectivity's SUPERSEAL pro 2 position sealed connector is a high-value connector for lower vibration chassis applications specially designed to maintain electrical performance in sealed inline applications.
The SUPERSEAL pro 2 position connector is constructed from UL 94 V0 flame-retardant material. The MCON 1.2 single wire seal terminal enables accurate signal transfer in harsh environments. With color-coded TPA options, the SUPERSEAL pro 2 position connector allows easy assembly
To branches, such as the automotive industry, aerospace, but also in defense systems as well as the whole new energy sector, TE Connectivity offers high-quality and innovative products.