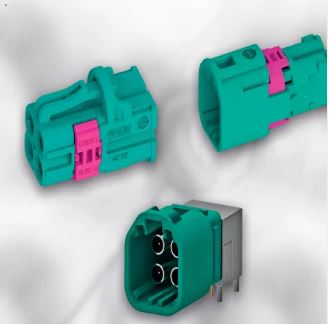 MATE-AX Miniaturized Automotive Coaxial Connector
TE Connectivity's (TE) MATE-AX miniaturized automotive coaxial connector system provides advanced automotive data transmission performance, supporting up to 9GHz. The MATE-AX system features an extensive portfolio offering a wide range of connector types and sizes to support all types of RF-based applications. Offering a higher packaging density, MATE-AX terminals can support up to 75% reduction in PCB footprint and by using existing wire types, it enables flexible integration into existing coaxial architecture.
Properties:
Supports existing cable types: automotive coax cable, comparable to RTK-031/RG-174
Sealed and non-sealed designs
Supports a bandwidth of 9 GHz and up to 15 GHz on optimized versions
Increased RF performance (beyond FAKRA-compliant connectors)
Fully protected terminals
Lower mating force/compatible with high pin count
High retention force (min. 75 N)
High encryption effectiveness (min. 130 N)
Proven seal design, LV214/USCAR compliant
Design of standard terminals and connectors – contact contact protection, connector adaptation above the housing
Straight and angled versions: pin header/housing/terminal
Design of the terminals according to existing architecture
Use of higher bandwidth for larger data volumes
Extensive portfolio of pin headers for all vehicle applications
To branches, such as the automotive industry, aerospace, but also in defense systems as well as the whole new energy sector, TE Connectivity offers high-quality and innovative products.