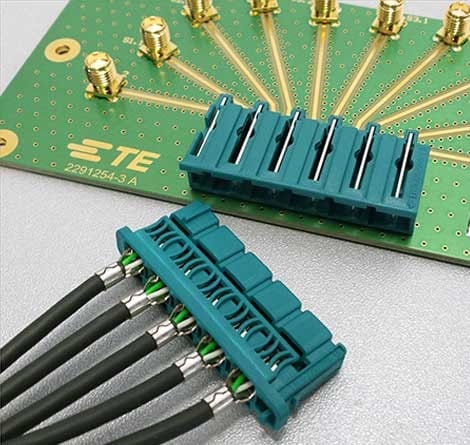 MATEnet Connector System
provides bandwidth, flexibility and reliability
MATEnet connectors are modular and scalable miniaturized data connector system for Automotive Ethernet. Based on TE's proven NanoMQS terminals, MATEnet connector system offers true automotive robustness and is compatible with both unshielded Twisted Pair (UTP) and Shielded Twisted Pair (STP) variants. MATEnet connector system can transmit up to 1 Gbps according to 100BASE-T1 and 1000BASE-T1 standard. In addition, MATEnet connector system uses higher modulation data transmission technologies, enabling it to support data rates up to 4 Gbps.
Automotive grade robustness: Based on proven NanoMQS terminals system.
Higher data-rate: Supports up to 1 Gbps (potential for 4 Gbps with alternative technologies).
Greater flexibility: Compatible with Unshielded Twisted Pair (UTP) and Shielded Twisted Pair (STP).
Modular and scalable: Integrates into existing automotive connectivity interfaces.
Cost efficient: Design and process aligned for Automotive Ethernet
The number of interconnections in the car goes up, and the amount of transmitted data also increases. Among the growing data traffic there will be a progressively big share of large data packages which require high bandwidth.
Automotive Ethernet offers the best cost-benefit ratio for this requirement. Utilizing Automotive Ethernet requires an intelligent interconnection solution that provides the flexibility, economy and performance for differing EMC requirement levels. Also the cabling (harness) shall be easily installed.
TE Connectivity's new MATEnet interconnection system brings automotive-grade robustness and performance to the industry. It offers reliability, affordability, fully automated handling, quality level, miniaturization, light-weighting, flexibility, and scalability to support economic car connectivity via Automotive Ethernet.
To branches, such as the automotive industry, aerospace, but also in defense systems as well as the whole new energy sector, TE Connectivity offers high-quality and innovative products.