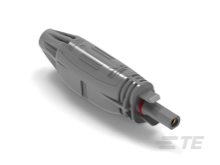 An installation time of 30 seconds is now possible for a mated pair with the SOLARLOK SLK 2.0 DC plug & splice connectors. The product range is 80% faster to install when compared to market-standard PV connectors with multiple components and crimp contacts. The SOLARLOK SLK 2.0 connects the PV cable to the solar panel in field installations with extended voltage ratings of 1500V TUV/IEC and UL. The design integrates Insulation Displacement Contact (IDC) technology, removing the need for cable stripping and avoiding potential damage to the cable. The single-piece product allows for fewer installation steps and no special tools required, resulting in reliable product performance and reduced labor and maintenance costs.
These new products are IEC 62852 (TUV) and UL 6703 approved, with a gel filling that ensures IPx8 water ingress protection. They are resistant to submersion in water to a maximum depth of 1m for up to 24 hours.
SLK 2.0 plug connectors incorporate the SOLARLOK 1500V PV4-S interface, to meet the latest solar PV needs, and are available in both male and female versions, enabling them to mate with SOLARLOK PV4-S and PV4-PM DC connectors. They are also range taking, so one connector fits conductors from 2.5 to 6 mm² (10 to 14 AWG).
SLK 2.0 splices are provided as a single piece, reducing the risk of incomplete connectors. This accelerates the termination process, with no loose parts to handle and no custom tools required. They are especially suitable for repairs, enabling quick and easy lengthening of cables, or to provide a solution for cables which have been attacked by animals or have mechanical insulation issues. SLK 2.0 splices are also equipped with a dovetail feature, enabling them to be stacked side by side.
To branches, such as the automotive industry, aerospace, but also in defense systems as well as the whole new energy sector, TE Connectivity offers high-quality and innovative products.