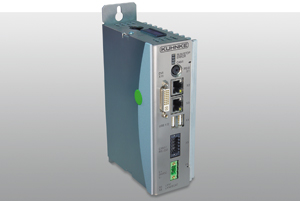 Small, robust, maintenance free and a safe investment. These are the minimal requirements which a modern industrial PC must provide for professional machine, appliance and switching cabinet solutions. But that is not enough by far. In addition to measuring, control and regulating function in the form of a soft PLC it must handle visualization tasks, data recording and data processing as well as all kinds of communication. The new IPC Ventura Econo by KUHNKE is very flexible and supports these high system requirements.
With the compact Microbox IPC Ventura Econo KUHNKE Automation introduces a new generation of IPCs without former restrictions. Due to extremely small dimensions flexible power meets very restricted space-saving requirements. Various processor and operating systems make it scalable and expandable. Moreover, program packages can be tailor-made to the customer's specific project requirements. 2 SD card slots can be used for individual firmware package and for separate data recording. Monitor and LCD display controlling is realized by the new monitor interface technology DisplayPort. This makes a connection to all existing and future displays very easy. In addition to developing the new Microbox IPC Ventura Econo we also equipped the corresponding displays of the Ventura Touch series with state of the art technology. So KUHNKE creates a modern IPC system. This system provides onboard communication interfaces like LAN, EtherCAT®, CAN, USB etc. Furthermore the Ventura Econo can integrate an extension plug-in card, providing all standard and ethernet-based bus systems like Profibus, Profinet or others. The compact new IPC offers highest flexibility and performance at extremely small housing dimensions (47 x 163 x 113 mm). It supports the integration of latest technology and customer-specific functions. Its know-how protection package makes it virtually immune against product piracy and thus secures your spare parts business and aftermarket.
Across the world, Kendrion Kuhnke electromagnetic systems and components increase performance, comfort and safety in automotive and industrial applications, improving the lives and work of people everywhere.